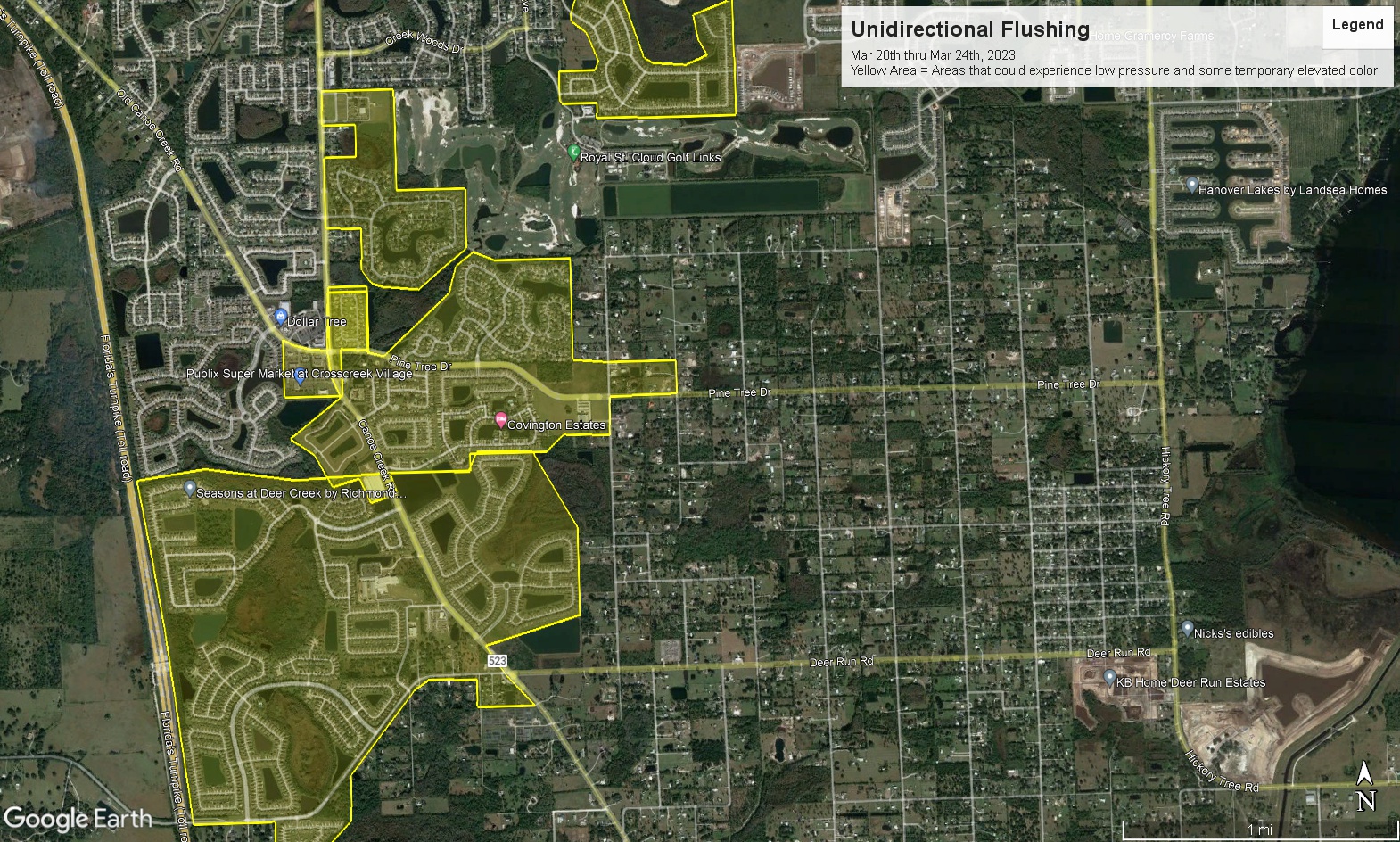 Affected areas next week are:
D&H Unique Creations

Orange Fresh Cleaning Services

Old Hickory Housing Complex

Southern Pines

Cornerstone Family Church

Miller David Funeral Home

Camelot

Palmers Wood Designs & Kitchen Cabinets

Humor Me Art youth clothing store

Water Tower Park

Sawgrass

Cross Creek Estates

Reserve at Pine Tree

Eagle Meadow

Covington Estates

Portofino Vista

Gator Bay Branch

Gutters Now

Infinity Stone marble supplier

M Square Construction general contractor

Rueben Hill-Prudential Financial

Big Fig RV Rental

St. Cloud Fire Department Training Center

Canoe Creek Christian Church

Family Dollar Store

Kingdom Hall of Jehovah's Witnesses

Cloud IT Services

FIX Smart Appliance Repair Service

L&S Designing Homes LLC

Baby Lounger Pillow Clothing Store

Wipe Out Washer Pressure Washing

Compass Self Storage

Fawn Meadows at Deer Creek

Doe Run at Deer Creek

Bristol Cove at Deer Creek

Briarwood Estates

Esprit

Whaley's Creek

Season's at Deer Creek By Richmond American Homes

Northstar Painting and Pressure Washing

JT @ LA Rosa Realty

Santa Luna House Property Management Company

Fionas Cuisines mobile caterer

Canoe Creek K-8 Middle School

Toho Marine Boat Dealer

St. Cloud Fire Station 33

Belle Event Doctor Event Planner

C&S Grading LLC Excavating Contractor

CHC-Services LLC

Dollar General Dollar Store

Circle K

Kid in the Country Daycare Center

Pilgrim Mortgage

CE Outdoor Services Inc Wholesale Nursery

AutoZone Auto Parts Store

McDonald's

Walgreens

Publix Supermarket at Crosscreek Village

Pristine Spas St. Cloud

Anytime Fitness

Classique Barbers

Vanessa's Coffee Shop

KFC

Wendy's

Marco Polo's Pizza

Subway

China Wok Chinese

Tabaco
For more information, contact Toho Water Authority's Customer Service Center serving St. Cloud at 407-957-7344 Monday through Friday 8 a.m. to 5 p.m.